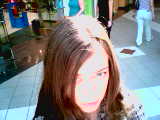 Name: Sarah Goddard
DOB: 7/1/85
Hair: Brown
Eyes: Violet
Height: 5'3"
Siblings: two brothers who rock
Marital status: Got a great Boyfriend
Favourite moives/TV Shows: Star Wars, Lord of the Rings, Phantom of the Opera, StarGate SG-1, Fruits Basket, InuYasha, Alias, Indiana Jones, The Last Unicorn, My Little Pony, Lost in Space, The NeverEnding Story, Sleepy Hollow, Tomb Raider
Favourite Books: The NeverEnding Story, Lord of the Rings, The Last Unicorn, the Fruits Basket series, InuYasha series, Phantom of the Opera, The Unicorn Chronicles series, Chronicles of Narnia
Favourite Music: NightWish, Evanescence, Linkin Park, Creed, The Who, U2, Sarah Brightman, Josh Groban, John Williams, The Boston Pops, Nightmare Before Christmas soundtrack, The Last Unicorn soundtrack, Enya
Favourite Faerie tale: Beauty and the Beast. So romantic!
SW Favs:
Movie: Return of the Jedi
Oringinal Character: Leia
EU Character: Jaina (duh)
Soundtrack: Empire Strikes Back
Movie Quote: "Why you low down, scruffy looking... Nurf herder!" ~Leia
Book quote: "I'm not mad. You haven't seen me mad. You better hope you never do." ~Jaina
Why Jaina Solo?
When I first began to be interested in Star Wars, I came across one of the Young Jedi Knights series at a books store. I knew of Jaina's existance from reading "The Last Command", but when I picked up the book for the first time, I nearly droped it. Staring out from the cover of the book was a reflection of myself. It was at that moment I instantly got hooked. I had to know more about her! Yes, we look exactly alike. It's kinda creepy, even my friends say so, but I like it. I'm a semi celebrity. I don't need that attention, like Jaina didn't.